IIT Kharagpur with its Excellent Performance and Rich History.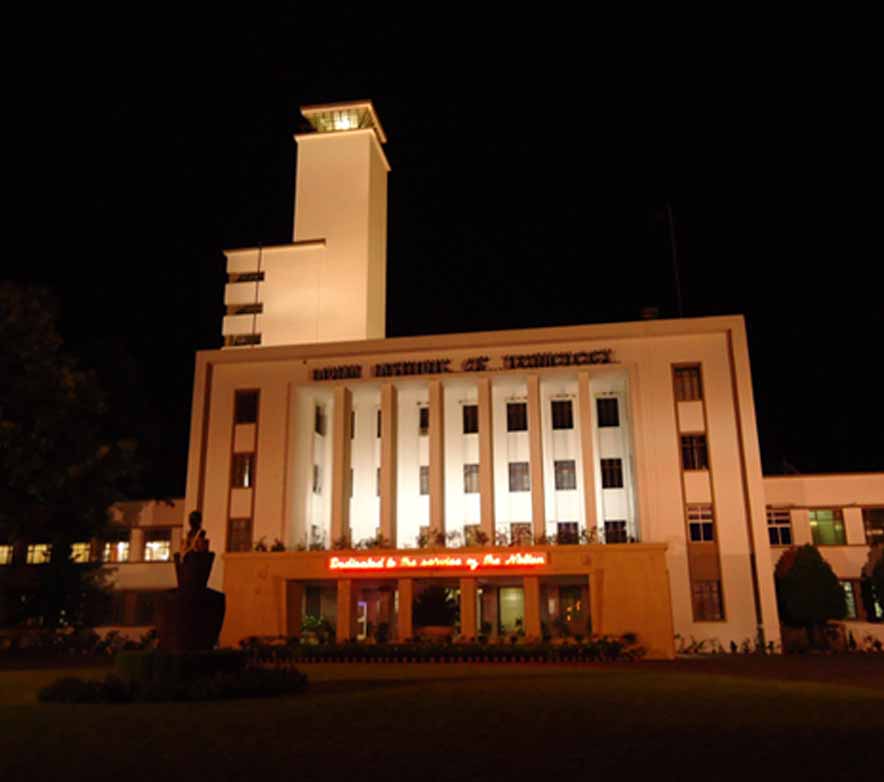 The Indian Institute of Technology, Kharagpur, founded in 1950 with a few other departments, has grown to its present size with 19 departments, 7 centers and 9 schools. Today, the institute provides instructions to about 3400 undergraduate, 1600 postgraduate students, and 1400 research scholars, a number that is expected to increase substantially in the near future. The teaching community comprises nearly 500 faculty members and 1270 non-academic staff. The motto of IIT Kharagpur is "Yoga Karmashu Kaushalam" . The motto literally translates to "Excellence in action is Yoga" essentially implying that doing your work well is (true) yoga. It is sourced to Sri Krishna's discourse to Arjuna in Bhagavad Gita. This quote in its larger context of Gita urges man to acquire equanimity because such a soul endowed with the mind of equanimity allows him to shed the effects of his good and evil deeds in this world itself. Equanimity is the source of perfection in Karmic endeavors while leading to Salvation.. IIT Kharagpur, the oldest, largest and the most diversified of all IITs, has a rich history of excellence created over more than 60 years of its existence. It has a very impressive and long list of alumni who have made a significant impact on all sectors of academia, industry and society.
Having a Long list of Highly Successful Alumni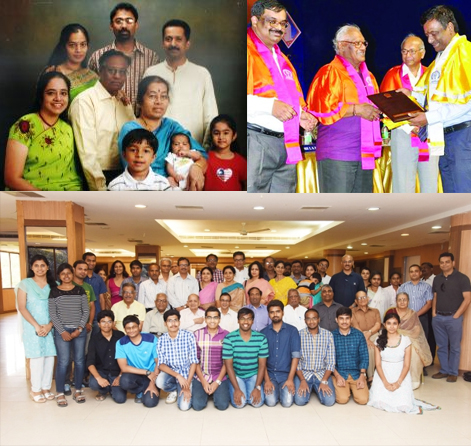 IIT-KGP has a long and historic legacy of Alumni Giving Back which has existed in one or the other form. The Graduating Class Gift is yet another chapter to be added in KGP alumni legacy initiated under My Imprint Program. It is a class-based effort directed towards raising unrestricted fund partially used currently and partially going towards Endowment. This particular part of the Endowment would again be utilized for students` services only. It is an opportunity for graduating students to take their first step in being soon-to-be alumni by making their Graduating Class Gift, the gift which impacts student life in the KGP campus. This challenge offers seniors the chance not only to make a gift, but also to leave behind their imprint.
Students Activity Centre
Technology Students' Gymkhana is the hub of the numerous extra-curricular and co-curricular activities in IIT Kharagpur ranging from sports to socio-cultural. From its inception in 1952, the Gymkhana has played a key role in the everyday lives of Kgpians cultivating and nurturing their extra-curricular talents. The moto of Technology Students' Gymkhana is "Yogah Karmasu Kausalam" which in English means "Perfection in action is Yoga". The Technology Students' Gymkhana, IIT Kharagpur is managed by the students, for the students, under the guidance and active participation of the faculty and staff members.
Facilities for Sports and Fitness
There are two large grounds - the Tata Sports Complex and the Jnan Ghosh Stadium, both with floodlight facility. Students can also practise when there is no sunlight. Facilities for playing different sports like cricket, football, basket ball, lawn tennis and table tennis exist. There is a large swimming pool. There are various competitions throughout the year including inter-Hall, inter-College competitions, inter-IIT meet. Different groups for each sports are there. Apart from all these a sports fest is also being organized every year. A sports fest is also conducted inviting many students from other colleges through out India.
Medical Facilities and Students Counselling Centre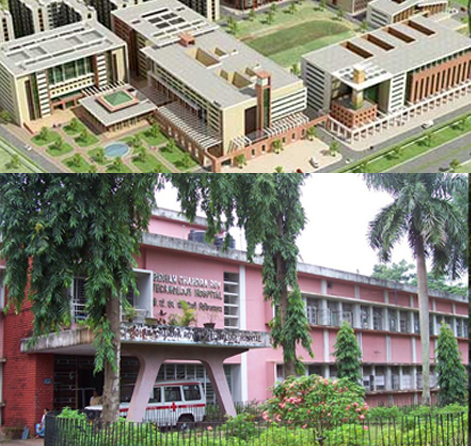 Indian Institute of Technology, Kharagpur is committed to provide quality health care services to its faculty, employees, and students using modern and cost effective techniques and technologies, and through a dedicated and humane approach. In accordance with the above policy, B C Roy Technology Hospital, owned and managed by Indian Institute of Technology, Kharagpur, provides Primary Health Care comprising of curative, preventive and health promotion services. . At present, B C Roy Technology Hospital is located centrally within the IIT Kharagpur campus. The facility has 32 beds, including a 2 Bedded ICU, Cabins and Isolation Ward. Through its Out Patient Department (OPD), Indoor Wards and Emergency Unit, B C Roy Technology Hospital provides 24x7 uninterrupted health care services to the campus community.
Banks, ATMS, Schools, Market, Post Office
The IIT Kharagpur campus contains all modern facilities for the family. These include the Tech Market and several other agglomerations of shops, branches of three banks with 9 ATM machines, eCorners of four banks, one large post office with its own ATM, four schools including the Kendriya Vidyalaya, a large post office, several restaurants and guest houses, even a Jawed Habib hair stylist shop.
A Large Green Campus
The IIT Kharagpur campus fits the description of an old Indian ashram with countless trees, green fields, birds, amazing lakes and beautiful gardens. There are several parks. The vast expanse and the pure air provide an ideal setting for the sadhana of knowledge.
Festivals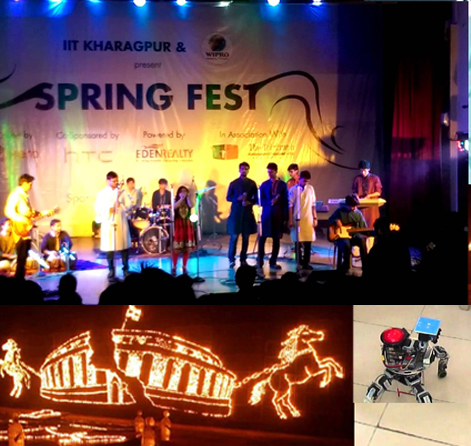 Festivals and cellebrations take place throughout the Year. Spring Fest is the annual social and cultural festival of IIT Kharagpur ,the pioneer of these elite institutions. Currently in its 55th edition, Spring Fest has been celebrating the true spirit of youth for over five decades, growing bigger and better with every passing year. With over 40 events, encompassing varied fields of science, technology and management, Kshitij, the annual techno-management fest of IIT Kharagpur, invites students from all around the globe to put their ingenuity and aptitude to test at an unparalleled level of competition. The largest fest of its kind in all of Asia, offers its participants a wide spectrum of events to prove their mettle, while the huge amount of prize money is reflective of the grandeur of the same.
Excellent Accomodation with Canteen Facilities
Excellent Halls/Hostels with attached Canteen Facilities are there within the campus. IIT KGP is well known for its extensive residential facilities. Spread over a sprawling 2100 acres, IIT Kharagpur houses almost 10,000 students. There are 21 Halls of Residences (16 for boys, 5 for girls) around campus. Patel Hall of residence built in 1952 is the first IIT Hostel all over India. The LBS and MMM halls completed in 2010 are modern state of the art hostels. The Girl Hostels are strategically located near the Academic centre, playground, auditoriums and Police station. Zakir Hussain Hall provides accommodation for the families of married Scholars. The Halls provide their residents with facilities such as High Speed LAN, Wi-Fi and 24 hour electricity. Inter Hall Competitions are conducted round the year and they help build the technical, athletic and artistic skills of the residents. These competitions form a part of rich legacy of Hall culture.
Central Research Facilities
The aim of Central Research Facility is to provide research and development centrally for all the students of this institute. There are around 25 laboratory in the CRF complex and the lab incharges are the different faculties of IIT Kharagpur.Students of diffrent branches come here for research and experiment.
Central Class Rooms, Seminar & Conference Hall, Computer Facilities and Laboratories
Computer and Informatics Centre (CIC) provides mainly three types of services namely network services, computational services and lab services to IIT, Kharagpur community. Network services like electronic mail, world wide web, DNS, telnet, ftp etc are provided to all the departments, centres and schools as well as to the Halls of Residences through a gigabit network. Computational services (both, in terms of hardware and software) are provided to the students, faculty and staff members of the institute. Various high end servers like IBM's RS/6000, Sun Blade and Graphics workstations are available in CIC. Various advanced and special purpose softwares such as AutoCad, Matlab, Mathematica, Mapple etc are installed and maintained by CIC. Besides, five labs namely PC Lab I, PC Lab II, PC Lab III, Workstation Lab and Terminal Lab are maintained by CIC for large and/or special purpose practical classes.